Anatomy of a Remix: How "A Grand Mother" is a grand reuse of New Zealand digital content
The video, "A Grand Mother" by Candy Elsmore, won this year's Mix and Mash Supreme Creative Remix. We highly recommend that you check it out (you may need a box of tissues). 
It's a beautifully told story about the pride and delight Candy's family felt after discovering their grand mother / great grandmother, Mary Edith Aberhart, had signed the 1893 Suffrage Petition.
New Zealand's digital content put to good (re)use
The video remixes music from band Wet Wings, photographs from Candy's own family photo collection and content from a number of DigitalNZ content partners.
Candy included an image of Grove Road in Blenheim, from the Alfred & Walter Burton Collection at the Auckland Art Gallery Toi o T?maki:
An image of Candy's ancestor, J H Aberhart, was found in The Cyclopedia of New Zealand [Nelson, Marlborough & Westland Provincial Districts] made available through the NZETC:
Candy found her great grandmother's listing in the 1893 Suffrage Petition, made available by Archives New Zealand specifically for the Mix and Mash competition:
The narrative of the video was influenced by information from 'Brief history - women and the vote' published on the Ministry of Culture and Heritage website New Zealand History Online.  
Candy also incorporated quotes from articles in the Marlborough Express newspaper (Women's Franchise - Mr. Buick's Views (21 March 1891), Female Franchise (27 September 1892), and Local and General News (13 July 1893), made available through The National Library's PapersPast website.
"A Grand Mother" is a brilliant demonstration of the use of openly-licensed digital content and presents a simple, compelling and highly personal story about a woman who had a small but vital role in New Zealand's suffrage movement.
This entry may have won the Mix and Mash competition's top creative remix prize, but perhaps more importantly, it is also now an heirloom that Candy can share with her family, now and in the future.
Comments
Comments have been closed for this post
This such an awesome project. If Candy ever wants to do a remix, here is an image of the original signature from the petion: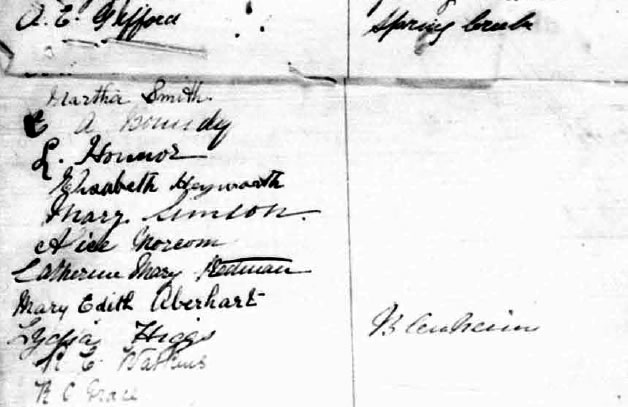 And here is her page on the petition database: http://www.nzhistory.net.nz/suffragist/mary-edith-aberhart
--Jamie Mackay • 2011-12-01 00:00:00 UTC
Absolutely outstanding. This is why your job of sharing the information is so important and why my job of collecting that information is so important. With out the context of a personal story, data is just data. But it takes you providing the data for me to contextulise it. Keep up the outstanding work DigitalNZ. You inspire me as a researcher and you inspire me as an Information Management student. Thank you.
--Jenni Shah • 2011-12-01 00:00:00 UTC