Painting of a Māori and Joseph Banks bartering
A DigitalNZ Story by DigitalNZ
In this painting by Tupaia, Joseph Banks is shown bartering (swapping) a piece of cloth for a crayfish/koura from an unidentified Māori male.
These resources and text relate to the background and context of Tupaia's painting of a Māori and Joseph Banks bartering. They have been sourced and collated from DigitalNZ and other websites.
Background
Tupaia  
Tupaia played a pivotal role in mediating between Māori communities and the crew of the Endeavour during Lieutenant James Cook's first visit to New Zealand in 1769.
The Endeavour would afterwards be remembered by Māori as 'Tupaia's ship', after the Tahitian priest who had joined the voyage during Cook's stay in Tahiti. In New Zealand, Tupaia was able to serve as a translator of Māori, a language similar to his own, and he was to become the first important cultural intermediary between Māori and foreign visitors.
But even with Tupaia's mediation, misunderstandings arose. Many were over the nature of trade and exchange between the two groups. Problems also arose when some crew from the Endeavour inadvertently broke sacred restrictions Māori had placed on some areas.
Tupaia died at Batavia on 20 December 1770.
Source:  John Wilson, 'European discovery of New Zealand - Cook's achievement', Te Ara - the Encyclopedia of New Zealand, http://www.TeAra.govt.nz/en/european-discovery-of-new-zealand/page-6 (accessed 19 September 2018) 
Sir Joseph Banks 
Sir Joseph Banks was a British explorer and naturalist who, as long-time president of the Royal Society, became known for his promotion of science.
In 1768, he joined the Society's expedition, led by Captain James Cook, to explore the uncharted lands of the South Pacific. The expedition circumnavigated the globe and visited South America, Tahiti, New Zealand, Australia and Java. Banks collected an enormous number of specimens on the way and, on his return, his scientific account of the voyage and its discoveries sparked considerable interest across Europe.
Source: 'BANKS, Sir Joseph', from An Encyclopaedia of New Zealand, edited by A. H. McLintock, originally published in 1966. Te Ara - the Encyclopedia of New Zealand. URL: http://www.TeAra.govt.nz/en/1966/banks-sir-joseph (accessed 19 Sep 2018) 
Early trade
In initial exchanges between Māori and Pākehā trade worked on two levels. The first was an extension to Pākehā explorers of the traditional practice of the ritualised gift exchange, where one gift incurred a requirement to reciprocate. Eruera Maihi Patuone said that in an encounter between his father, Tapua, and those on board the Endeavour in the Bay of Islands in 1769, his father threw fish to the 'tupua' (foreigner) as an offering. When Tapua went on board he received a red garment and corned meat.
The other type of exchange was bartering. Goods of a relatively similar value (in the eyes of both parties) were exchanged at the same time. For example, once Māori realised the value of nails as chisels they started to request them in return for goods they had – soon they began requesting longer nails as they were better for chiselling. Māori bartering skills developed with increased contact with Pākehā. Early visitors often commented on Māori bargaining skills – whether in terms of praise or resentment.
'Te Māori i te ohanga – Māori in the economy - Early trade with Pākehā', URL: http://www.teara.govt.nz/en/te-maori-i-te-ohanga-maori-in-the-economy/page-2, (Ministry for Culture and Heritage), (published 11-March-2010)
Quick facts 
Tupaia was a master navigator but he was also a high priest, translator, and artist. 
Tupaia made friends with locals which made trading as shown in this picture, possible.
As iwi chiefs realised who Tupaia was, they looked after him including letting their ship anchor and get fresh water.
Tupaia was able to understand enough of the Māori language to act as an interpreter for British explorer James Cook when he first visited New Zealand in 1769.
Joseph Banks who was very wealthy volunteered to be responsible for Tupaia on the Endeavour. He wrote, 'I do not know why I may not keep him as a curiosity, as well as some of my neighbours do lions and tigers at a larger expense than he will probably ever put me to.'
Tupaia saved many lives, both Pākeha and Māori.  
Māori and Tahitian languages are similar.
Tupaia died in Jakarta, Indonesia probably from typhoid fever as Captain Cook's expedition was returning to Britain.
Nō te kāwai ariki a Tupaia, nō Raiatea. I puta a ia i te whare wānanga i Taputapuātea, hei tahua. He tohunga a ia ki te whakatere waka 
I mārama te mana whenua ki te reo a Tupaia. I mārama a Tupaia ki ngā tikanga Māori. He rite tonu tana whakatau i ngā take i waenganui i a Kāpene Kuki rātou ko te mana whenua..
I mārama te mana whenua ki te whakapapa a Tūpaia.
Kaore te iwi Māori i rite ki ngā tuākana o Tahiti, kīhae ngā nēra i pirangihia; he pū kē te hiahia nui.
Fertile questions
Why did Tupaia make this picture? 
What kind of encounter is this? 
How do strangers become friends? 
He tohatoha, he hokohoko rānei te mahi i roto i te pikitia? 
Why do people trade?
Hei aha te hokohoko? 
What makes a 'fair' trade?
What is your question?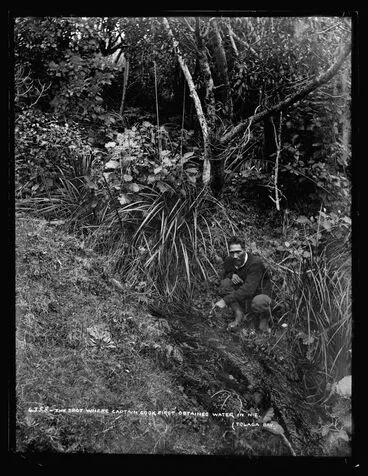 ADDITIONAL QUESTIONS
What were the benefits of trading for Māori and early European explorers?
Why has money replaced bartering?