Te Horeta Te Taniwha and his nail
A DigitalNZ Story by DigitalNZ
When Te Horeta Taniwha was a boy he came on board the Endeavour when it visited Mercury Bay In 1769. There he met Captain Cook who gave him a nail.
These resources and text relate to Te Horeta Taniwha (Ngāti Whanaunga) who, as a boy, was given a nail by Captain Cook. They have been sourced and collated from DigitalNZ and other websites.
Background
This ship's nail has been adapted and used in the past as a small toki (chisel) for wood carving. In 1852 an elderly Te Horeta Taniwha narrated for the written record his boyhood encounter with Captain, James Cook, when the Endeavour visited Mercury Bay in November 1769. Cook gave Te Horeta a ship's nail and Te Horeta said he "used it for many things." In fact, it was so precious he referred to it as his atua or god.
Context
Te Horeta was a respected leader of Ngāti Whanaunga, one of the Marutūahu confederation of Hauraki Gulf and Coromandel Peninsula iwi. He may have been born about 1757, for he told Captain James Cook he was aged about 12 when he met him. 
Sailing ship nails were used by early European Pacific explorers to trade for goods and services from indigenous peoples. Nails were initially highly prized by Māori. Before their first encounters with Europeans they had no metal tools, weapons or implements, only stone. Large ship nails were more adaptable and versatile than stone tools and could be used as chisels, drills and weapons tips. 
Quick facts
Te Horeta received the name Taniwha during a battle. He dived into a river and climbed into a waka and killed 7 warriors.  Te Horeta's people thought the feat was that of a taniwha.  
In 1767, the British frigate Dolphin was the first European ship to discover Tahiti. The Dolphin's sailors used nails and hooks to trade with the Tahitians. So many hooks and nails were pulled out of the ship that it was in danger of falling apart!
Cook traded or bartered with indigenous peoples using items like beads, nails, cloth, ribbons, iron knives and even potatoes.  
Fertile questions
What makes objects precious? 
Are we more the same than different? 
Why do we give gifts? 
He aha te koha? 
Mā te aha e taonga ai tētahi mea?
How and why do people use materials in different ways?
What is your question?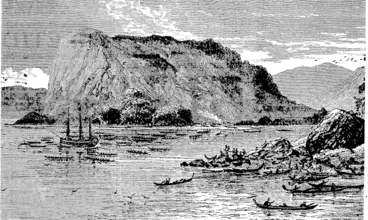 ADDITIONAL QUESTION
Does technology change our lives for better?