Cross-Cultural Identity: Tuia Mātauranga Curiosity Card
A DigitalNZ Story by National Library Services to Schools
The curiosity card depicts a tattoo combining Māori kōwhaiwhai design with Scottish tartan patterns. The image below shows kilt-clad and tattooed participants at the Turakina Highland Games in 2006. – possibly of both Māori and Scots descent.
BACKGROUND
Tattooing is common throughout the Pacific Islands. In New Zealand, Māori developed techniques to cut deeply into the skin, producing grooved scars. The spiral motifs are distinctively Māori. Moko originated in rituals of mourning for the dead. Women would haehae (cut) themselves with shells or obsidian and put soot in the wounds.
 In tradition, tā moko was brought from the underworld by a chief called Mataora, who married a tūrehu (spirit) called Niwareka. She fled to the underworld after he hit her. He followed and was taught tā moko techniques by her father, Uetonga.  
Kei ngā takiwā puta noa i Te Moananui-a-Kiwa kitea ai te tā moko.  Ka whanake te mātauranga ki te haehae hōhonu i te kiri, kia hua ai ngā rauru, arā, he whakairo tūturu nā te Māori ake. I ahu mai te tā moko i ngā whakamomori i te hunga mate. Ka haehae te wahine i tōna kiri ki te mata angaanga, mata tūhua rānei. 
Kātahi ka pania ngā awa ki te pungarehu. E ai ki te kōrero, i ahu mai te whakairo i te rangatira, i a Mataora. I moe tūrehu a Mataora, ko Niwareka te ingoa. Nō tōna tūkino i tāna wahine i a Niwareka; ka hoki ia ki tōna kāinga i Rarohenga. Ka whai atu a Mataora i a ia, ā, ka akona iho ki te tā moko e tōna hungarei, e Uetonga.
Tattoos
Tattoos have become increasingly common over the last 20 years especially in New Zealand, which now has one of the highest percentages of tattooed people in the world. That's not surprising given our Polynesian heritage; the art of tattooing first originated in Polynesia.
For many New Zealanders, tattoos define and represent their identity. They express their wearer's passions, history, family ties, and cultural background.
One type of tattoo unique to New Zealand/Aotearoa is the kirituhi – literally writing on skin. These tattoos are not traditional tā moko (tattoos designed and worn by Māori only) but are inspired by or incorporate Māori or Polynesian designs. They are often created by or made for someone from a non-Māori culture.
Visually kirituhi can often tell us where someone is from (like Aotearoa) and also who they identify with (their whakapapa or ancestry). For example, this curiosity card shows a kirituhi tattoo proclaiming the wearer's multicultural Scottish and Māori ancestry. Both cultures are strikingly revealed through a clever mix of two distinct cultural symbols; the Māori kōwhaiwhai pattern and the Scottish tartan.
Tattoos say something about who we are. They represent a form of visual storytelling because they reveal our individual and collective identities.
History and origins
'Tā moko – Māori tattooing', URL: http://www.teara.govt.nz/en/ta-moko-maori-tattooing, (Ministry for Culture and Heritage), (published 5-September-2013)
Ngā pūtakenga
'Tā moko', URL: http://www.teara.govt.nz/mi/ta-moko, (Ministry for Culture and Heritage), (published 5-September-2013)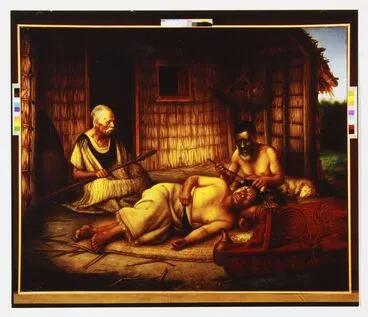 QUICK FACTS
Tattooing was a common cultural practice across Polynesia before Europeans arrived.
The English word tattoo is based on the Tahitian word tatu which means to mark.
It was Sir Joseph Banks, who first recorded the word tattoo in his journal on Captain Cook's 1769 expedition.
Moko refers to traditional Māori tattooing. To wear a moko means both the recipient and tattooer have Māori whakapapa.
Moko represents your mana. It is a way of confirming and celebrating your whakapapa, identity and history.
A tohunga tā moko is an expert in tattooing moko. Often they will have a background in Māori carving and a deep knowledge of Māori visual language and symbolism.
A kirituhi is a cross-cultural tattoo. Māori imagery is used but it is often created by or made for someone from a non-Māori culture.
Kiri means 'skin', and tuhi means to 'write, draw, or record.'
It is claimed that New Zealanders are the most tattooed people in the world. 
Scottish tartan is a woven crisscrossed fabric featuring a pattern of different coloured and sized stripes.
Each Scottish clan or 'iwi' has their own specific tartan, which symbolically identifies them.
The Scottish word clan comes from the Gaelic word clann, or children.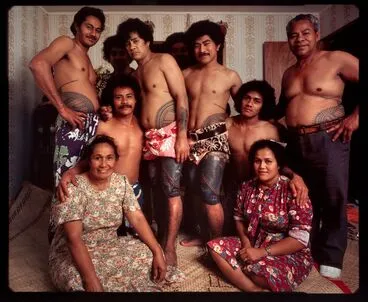 FERTILE QUESTIONS
What does it mean to belong to more than one culture?
He aha e hirahira ai te whakapapa? 
In what ways do people express their identity? Why?
Mā te aha te moko, te kirituhi rānei e whakaatu i te tuakiri o te tangata?
What is your question?
This story was curated and compiled by Te Puna Mātauranga o Aotearoa | National Library of New Zealand, Services to Schools staff, 2019.
ADDITIONAL QUESTIONS
How does a pattern/shape become a symbol?
What is the difference between tā moko and kirituhi?